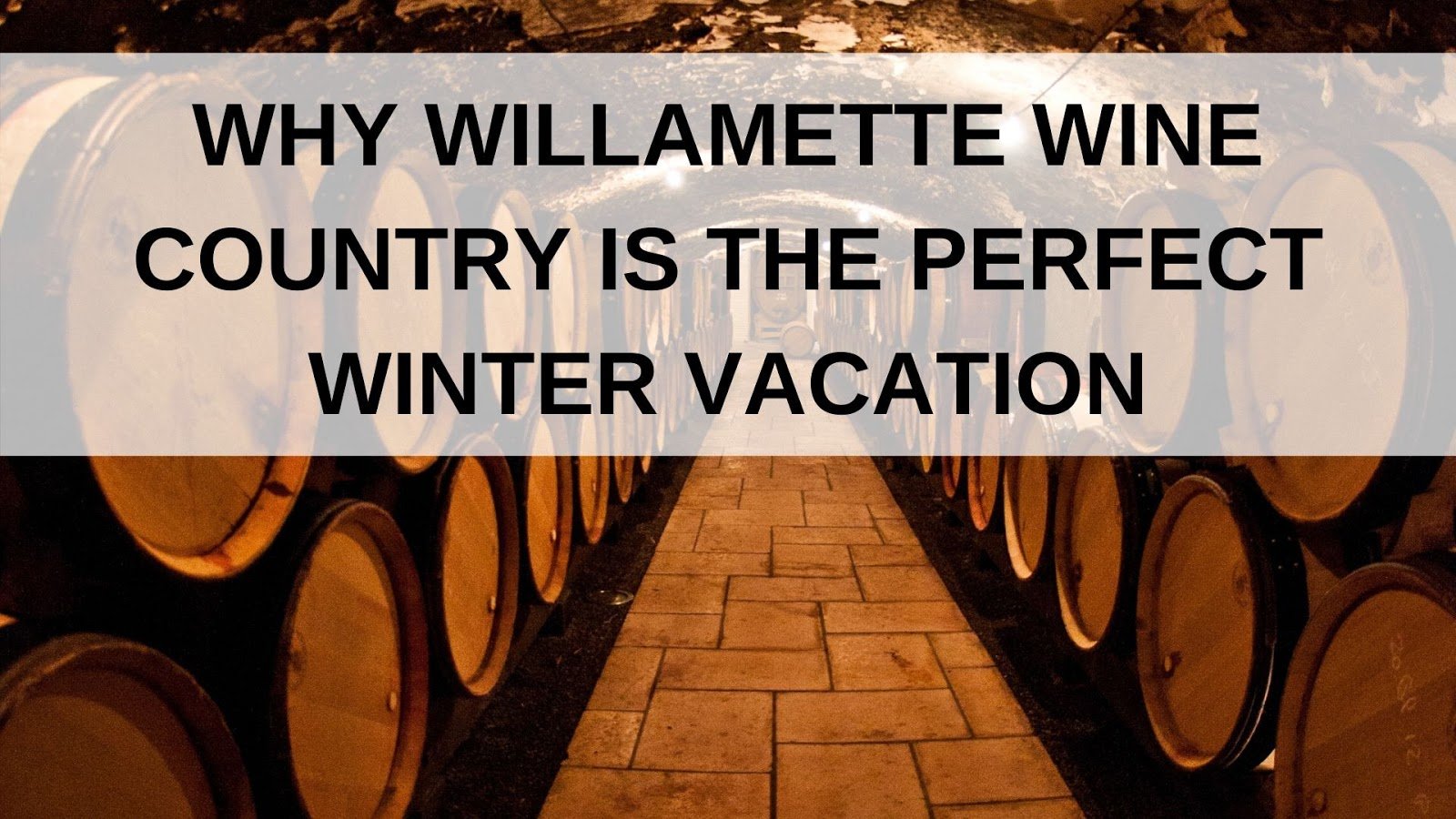 Winter is a beautiful time of the year, but it can also wear on you. Short days & long nights, wet, chilly weather, and lack of outdoor access means that you need to get out of your routine and take a little vacation. The Willamette Valley is one of the best places to escape for a little mid-winter R&R. Bountiful wineries, quaint Oregon towns, and a lack of crowds make for a wonderful personal weekend that you won't soon forget.
Cellar Season
If you thought that Oregon wineries closed after harvest, then you are in for a lovely surprise. Wintertime in the Willamette Valley is known as Cellar Season, a time to visit the cozy tasting rooms of your favorite wineries and get a personal, behind-the-scenes experience. Instead of a busy peak season experience where you can barely stand in the tasting room, you can connect with the winemakers themselves and learn about their process.
Willamette Valley Winter Events
The Willamette Valley hosts some of its most unique and exciting events during the winter. There are foodie favorites like the Oregon Truffle Festival with weekend events all through January & February, and the Oregon Chardonnay Celebration in Newburg, to the Oregon Wedding Showcase, and even the McMinnville Short Film Festival coming up this season. There is an event for everyone and you may want to visit for more than one!
Antiquing in Salem
Antiquing is a favorite winter activity and Salem has a wide variety of antique stores where treasures are just waiting to be discovered. A couple of favorites are Engelberg Antiks, Earle Antiques, and The French Unicorn. During the holiday season, these stores offer the perfect market to find unique gifts for your loved ones or pick up the perfect holiday-themed items to make your Christmas party pop. After the new year, you can still browse these shops as new items are always popping up.
Visit Waterfalls without the Crowds
Oregon is known for the amazing waterfalls all over the Willamette Valley and during the summer a trip to see these natural beauties may be a little crowded. In the wintertime, however, the stunning waterfalls are still open and just as magnificent as ever, but you won't have to deal with the parking fiasco or the crowds on the hikes. When snow does dust the valley, these waterfalls turn into a picturesque sight with icicles draping over the edge and illuminating blue hues in the water.
There is nothing like cozying up and watching a movie during a chilly winter night and Salem Cinema offers an experience like no other. This intimate theater screens carefully selected films that often take an artistic approach to the storytelling experience. You'll find foreign films, indie award-winning shorts, and suspenseful cinematic journeys every night of the week. Grab a bucket of popcorn and sink into the comfortable seats for a truly unique cinematic experience.
Escape for a romantic weekend away at Bella Collina B&B. Snuggle up in front of the roaring fireplace and read a book or venture out for the day and visit some local wineries for tastings. You can relax and not have to lift a finger during your stay at this luxurious bed & breakfast.



Winter Special
Suite Rates Reduced-30% OFF
Purchase a Gift Certificate
Available Dec 1-Feb 29, 2020
A great Christmas Gift